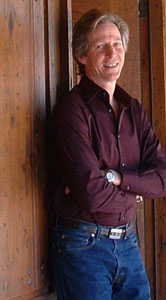 Randall Moore arrived in Taos, New Mexico in 1977 and began an informal apprenticeship as a silversmith at The Mabel Dodge Lujan House, then known as "The Big House". In 1979, he relocated to Santa Fe where he still lives and works.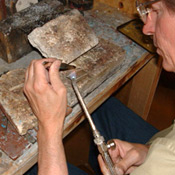 His primary focus has been silver & gold belt buckles, buckle sets, and Men's accessories in sterling silver, 14K and 18K gold. Drawing upon Southwestern influences as well as contemporary elements for his designs and utilizing traditional tools and techniques, Mr. Moore crafts heirloom quality items that are at once both classic and fashionable. His creations are worn by world class athletes, entertainers, politicos and just plain cool gals and guys everywhere.
Randall's studio is located in the heart of Santa Fe's historic east side, at 868 East Palace Avenue, just a block off of Canyon Road.